Item Dispatch Within 3 days
The NT301 CAN OBDII/EOBD Code Reader is the easiest solution for OBD faults. In addition, its 2.8''TFT color screen and hot keys for I/M readiness test, and reading/clearing DTCs make it excellent value for money.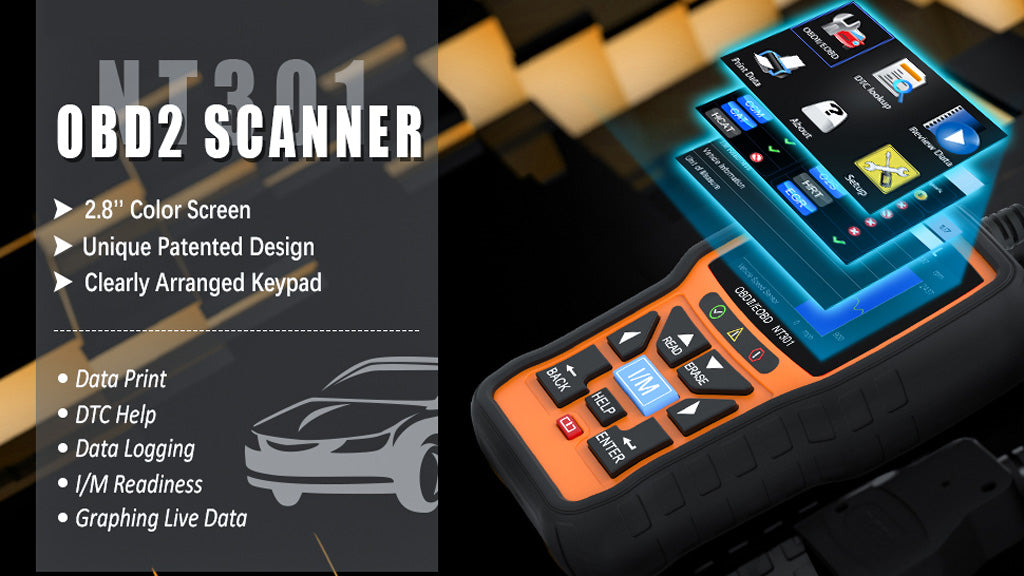 Features and Benefits:
Works with all OBDII/EOBD compliant cars, light-duty trucks, SUVs, minivans and hybrid sold worldwide
One-key emissions test and code reading
Red-Yellow-Green LEDs and build-in speaker indicate emissions monitor status
Clears codes, turns off Check Engine Light (MIL) and resets monitors.
Reads freeze frame data
Shows live vehicle sensors data in text and graph formats
Reads live O2 sensor/on-board monitor test data
Retrieves vehicle information (VIN, CID and CVN)
Multilingual menu options and code definitions
Life time FREE software and firmware updates via USB cable
Extremely easy to use with clearly arranged keypad, menu-driven navigation, and hotkeys
Full OBDII Functions with bi-directional Tests:
Read Codes, Erase Codes, Live Data, Freeze Frame, I/M Readiness, O2 Monitor Test, Component Test, Vehicle Info, DTC Lookup
As everybody who has cars knows, people always spend hundreds of even thousands of dollars on their vehicles just because the engine light was on. However, most of them don't know they could make it off themselves with dozens of dollars - using NT301 obdii code scanner.

One-Key Smog Test:
NT301 gives your the ability to get access to emission readiness status and trouble codes with just one single click.

LED Notifications:
Red-Yellow-Green LEDs and build-in speaker indicate the readiness status for smog check. This engine diagnostic tool can also help catch intermittent problems or confirm repairs during a drive cycle.

DTC Help:
Press "HELP" button with DTC guide for possible causes if codes show the small "?" icon.

Free shipping to USA and Canada. Delivery 2-3 weeks